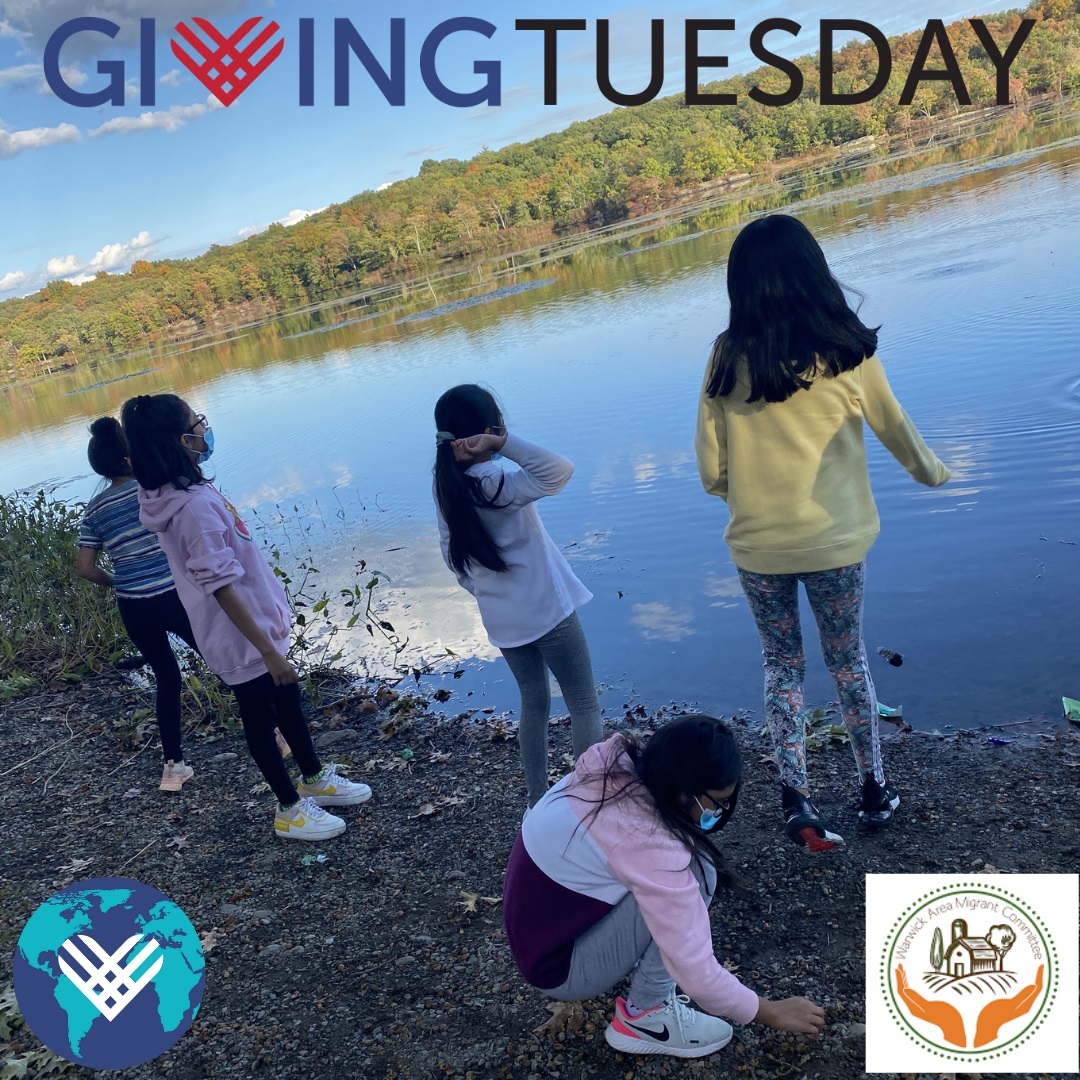 Giving Tuesday is a day dedicated to supporting non-profit and community organizations that do good at both local and wider levels of charity work. The Warwick Area Migrant Committee, like many similar small non-profit and local organizations, has had a significantly challenging year. The need and demand for services this year is far higher than most years due to the ongoing pandemic coupled with the economic crisis impacting many of the local agricultural operations in our area. Put on top of those challenges the struggle of trying to raise a family when prices for everything from food to clothing are increasing faster than the wages you earn. The result is many poverty level wage earners such as the community of local migrant farm workers and their families we serve are finding is very hard to make ends meet.
That is where the WAMC steps in and helps these local migrant farm workers and their families out, but that means we need more funding than ever to support all this need. For us this raises a challenge since many of our traditional routes of raising funding have been shut down by pandemic restrictions. Normally we can hold fundraising events and attract large corporate donators to support our services through charitable giving. The COVID-19 pandemic basically shut down our ability to raise donations this way. So we have less money to try to deal with larger needs in a time where that need is critical the the health and welfare of our clients.
We know there are many other organizations out there who will ask for help today. Some of them may be larger than ours or maybe have a wider reach to pool funds from. The WAMC has always relied on our local supporters to keep our programs running. This goes back sixty years to those first Catholic nuns who took on the challenge of giving dignity and compassion to a community of people that has never been considered as needed as they really are to keep our local economy viable and our communities fed. Unfortunately today those same negative social paradigms surrounding migrant farm workers still exist and may have even grown more negative. None of these negative views are true.
Migrant farm workers and their families are just like you. They work hard. They live in close knit families and have strong community values. They value freedom, opportunity, and are willing to work hard for it. This is the community of people the WAMC continues to serve, as well as, educate others to how essential our local migrant farm workers are to not only the economic well being of our area, but the social and cultural well being as well. Today's children who we serve in the WAMC program will be tomorrow's community leaders and business owners. We have seen that more and more over the past few decades. Clients who participate in our programs work their way towards the American dream.
They open businesses in our community that serve and give back to it. They take ownership of farms and agricultural operations that would otherwise close because of the disinterest in the challenges of the work required to operate them. They become police officers, firefighters and EMS workers; as well as, health care workers who serve others in their time of need. They become our next generation of engineers, computer programmers, and educators. It is not an overstatement to say the children in the WAMC program are an important part of the future of this country– because they are and helping them get there truly matters to our future well being. This is why we kindly ask you to consider donating the WAMC today.
We welcome anyone who has questions about our programs to reach out to us to find out more. The WAMC has always maintained a high level of transparency and works endlessly to make sure every last cent you give to us helps out the migrant farmworkers and their families that we serve. Our volunteers over the last sixty years have been some of the most passionate, caring, and gifted members of our community who we are so pleased to have help in our mission of service to the some of the poorest among us. When giving to the WAMC you can feel safe knowing your gift is making a true impact in the lives of children who otherwise would have not access to educational enrichment, tutoring, safe daycare, nutrition and food support, job placement, legal assistance with the naturalization process, and access to mentors who literally change their lives.
If you wish to support the WAMC, you can do so safely online here. Any amount is helpful and we know during your own personal time of economic and social duress some of our supporters may have to give smaller donations– that is okay and we are grateful for whatever you can give to help these children out. We thank you in advance for your support and trust!