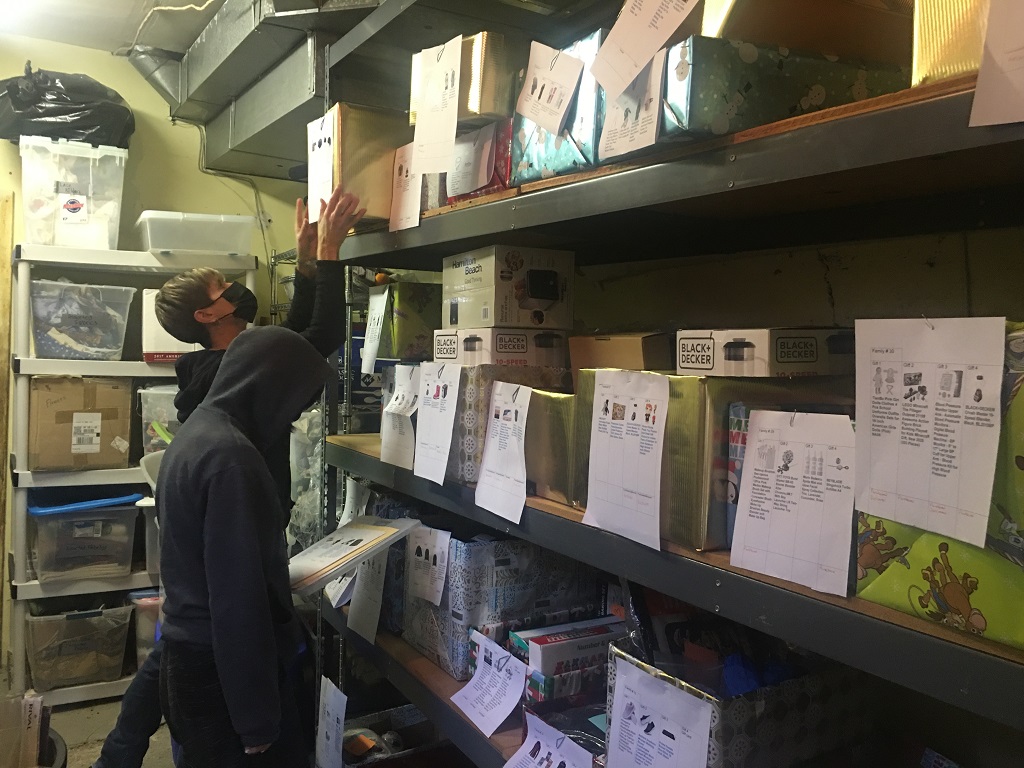 The Warwick Area Migrant Committee continues its 2020 Christmas Amazon Wishlist Gift Drive as we draw closer to Christmas Day. As previously reported on this web site, this year, due to Covid-19 restrictions, the Warwick Area Migrant Committee is unable to have our Annual Christmas Shop. The Christmas Shop is a way for farmworkers and their families to get presents for Christmas at no cost to them. Instead of the WAMC Christmas Shop this year, we went around to families and asked what they wanted for Christmas. We then listed the items on an Amazon wish list. If you would like to help us bring Christmas to the farmworkers and their families in Orange County this year you can shop for and purchase items off the Amazon Wishlist found here.
We are very pleased to say the response from the community in support of this year's Christmas Amazon Wishlist Gift Drive has been very good and as a result new gifts are arriving everyday for our clients and their families! The WAMC volunteers have been extremely busy as a result with organizing all of the family boxes and decorating them.  The volunteers are adding the gifts to the family boxes. Our little WAMC program office in the Alamo Community Center in Goshen, NY has become a miniature Santa's Workshop!
Instead of elves though we have such an amazingly dedicated team of volunteers and staff members who continue to make sure gifts, once packed up, are staged for delivery to migrant farm worker families throughout the Southern Orange County NY area that the WAMC serves. Our staff and volunteers have already begun coordinating drop offs with families so gifts will be under the tree in time for Christmas morning and to insure these families can celebrate the Christmas holiday just like any other family in our community.
We do need further items though off the Amazon wish list, as well as, gift cards. Information on how to donate is below and we thank all those who already donated so generously, as well as, all of you who plan on donating to our efforts in the coming days. It is important we get all the gifts ordered and delivered by end of next week so please if you are planning to donate to this effort do so in by the end of this week.
Again, we cannot fully express in words our gratitude on behalf of the migrant farm workers, their families, and all the children who will have a wonderful Christmas because of your choice to support this effort– what is happening is truly a little miracle of Christmas! The migrant farm workers and their families are truly amazed by the support and compassion this community has shown to them this Christmas.
We, at the WAMC, are also overwhelmed and grateful for this community's willingness to support this effort especially during such challenging times for so many. We at the WAMC wish everyone an early Merry Christmas, as well as, a joyous and blessed Holiday Season with all those you hold dear. Thank you!
---
HOW YOU CAN HELP US MAKE CHRISTMAS HAPPEN FOR WAMC PROGRAM FAMILIES:
Mail Gift Card Donations to:
Warwick Area Migrant Committee
PO Box 607
Goshen, NY 10924
OR
Drop Off Gift Card Donations at:
Alamo Community Center
890 Pulaski Highway
Florida, NY 10921
Directions can be found here.
OR
Donate Online at:
OR
Buy Gifts for the Families From Our Amazon Wishlist:
WAMC Christmas Amazon Wishlist Page
---