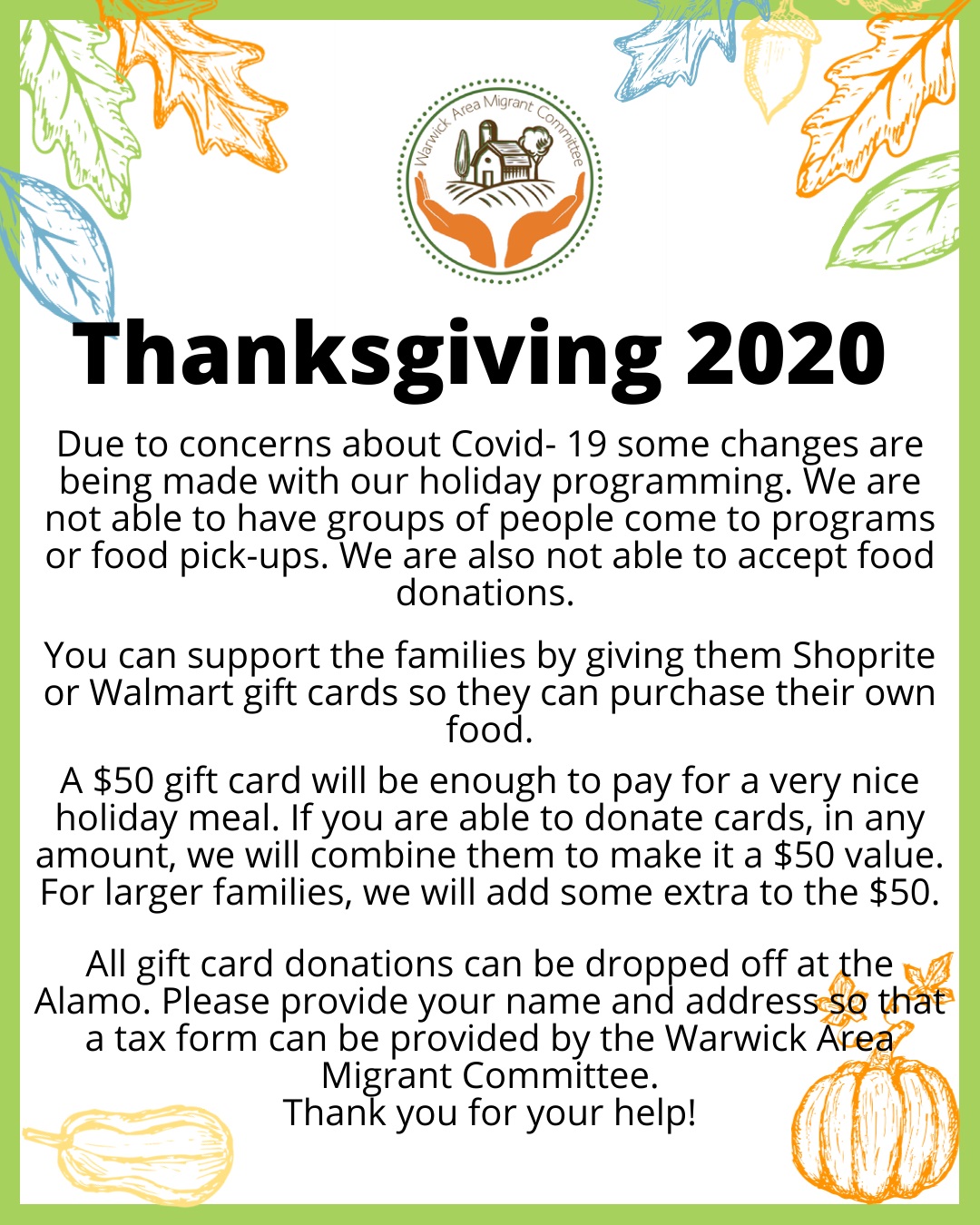 The Warwick Area Migrant Committee, due to concerns about COVID-19 safety, is making some changes to this year's WAMC Thanksgiving Food Drive. We will still be offering a holiday Thanksgiving food program to all our WAMC program participants in the local migrant farm worker community. We will not, however, be able to have groups of participants come to the WAMC programs or for Thanksgiving food pick-ups. We are also not able to accept food donations from supporters.
You can support our Thanksgiving dinner food drive by mailing via the US Postal Service a Shoprite or Walmart gift card so the families in the WAMC programs can purchase food. The mailing address is below.
A $50 Shoprite or Walmart gift card is suggested as it will provide a very nice holiday meal for the family recipients. Smaller and larger amounts are also welcomed though as we know many families are facing similar struggles this year. We will combine smaller amounts to make $50 per family allotments, as well as, adding to allotments for some of the larger families that include extended relatives.
Alternately you can drop off Shoprite or Walmart gift cards at the Alamo Community center. The address is below.
Regardless of whether you mail or drop off your Shoprite or Walmart gift card donation be sure to provide us with your name and address. This will allow us to send you a tax form that can be used with your federal and state tax filing for 2020 (please consult a tax consultant or accountant for details as to how this applies to your particular return). Corporate and business donations are welcomed as well.
In the event you cannot get a gift card to send the WAMC for this Thanksgiving food drive, you are encouraged to please make an online donation instead. This will allow us to purchase Shoprite or Walmart gift cards. You can do so here.
We thank you, on behalf of all the migrant farm worker families we service, for your generous donation and continued support!
---
Mail Gift Card Donations to:
Warwick Area Migrant Committee
PO Box 607
Goshen, NY 10924
OR
Drop Off Gift Card Donations at:
Alamo Community Center
890 Pulaski Highway
Florida, NY 10921
Directions can be found here.
OR
Donate Online at:
---