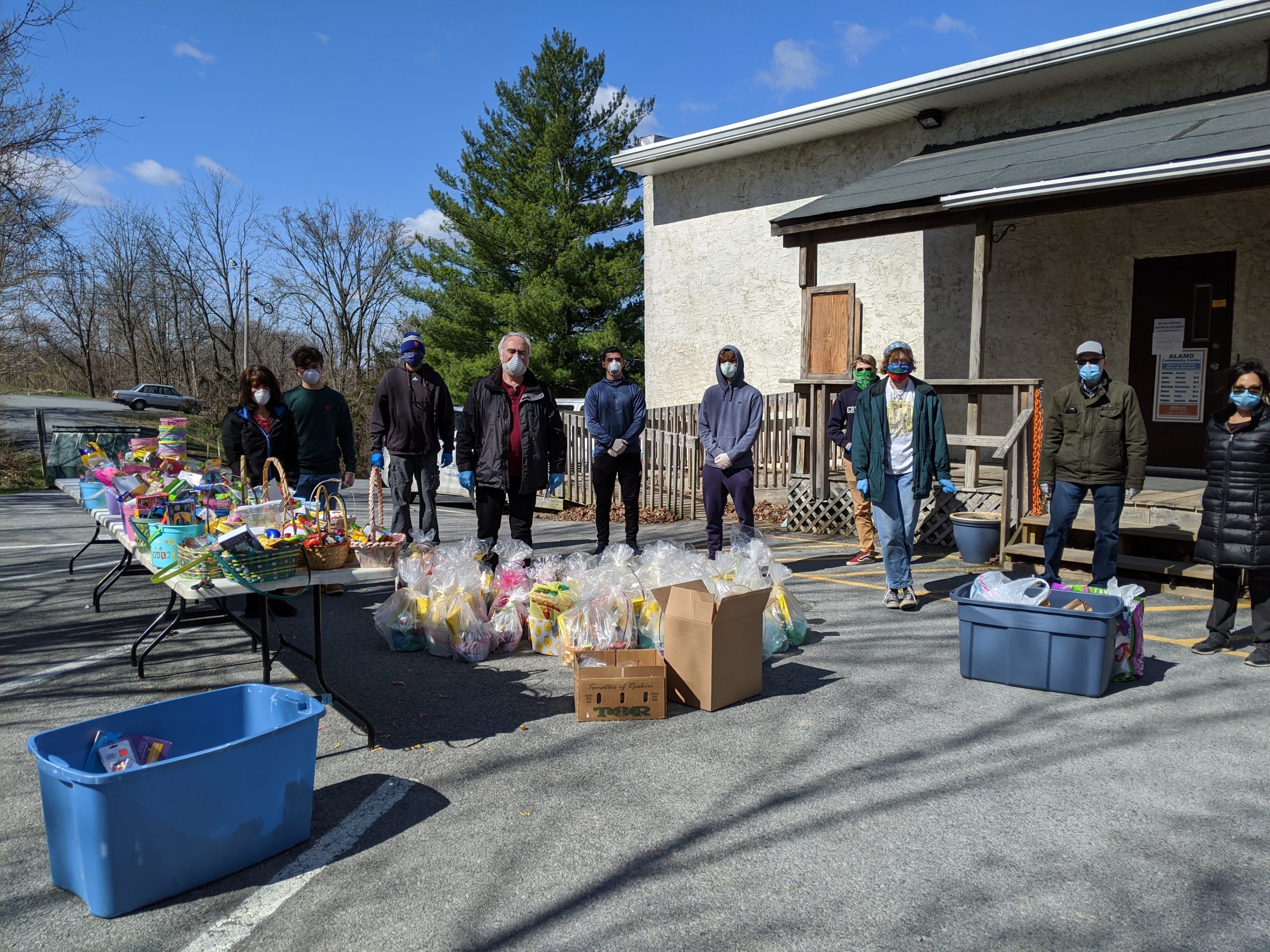 The Warwick Area Migrant Committee (WAMC) team continues to prepare boxes of food that are delivered to at least 50 households per week. These essential grocery items and food are a much needed lifeline for the migrant farm workers and families we serve through our programs. With the help of a few brave volunteers, we have been able to send books and toys to the children as well. The WAMC continues its effort to serve those most in need and our ability to do so is because of your incredibly generous support in donations of food and essential items, as well as, a huge outpouring of financial support through online donations. Over the last month and half we have raised over $2,000 that has been used entirely to serve this ongoing mission. The migrant farm worker community is truly humbled and grateful for your selfless generosity in these challenging times.
In addition to our ongoing food delivery program, this past Saturday (April 11, 2020) the WAMC volunteers gathered at the Alamo Community Center and were able to distribute 120 Easter baskets to the migrant farm worker families and single men who are part of the migrant community we serve. While it was not the regular Easter Sunday dinner they have known in years past, the families and men were so grateful for this wonderful Easter surprise. Children in the WAMC program were all able to receive their Easter baskets filled with candy and gifts directly from their parents. This gave the children some sense of "normal" during Easter and allowed their parents to provide them with Easter joy that would have otherwise not been possible in this crisis.
For Christians, especially those in the Hispanic cultural community, Easter is traditionally a time of family being together in celebration (fiesta). Family is central to their cultural identity as a Hispanic people. It is in this way that the Easter holiday fiesta becomes even more meaningful to them both as individuals and as a group with common bonds. The individual sees joy in the larger experience of holiday fiestas with their family and it is through that experiential living of their faith together in the family setting that provides them with a sense of hope for the future of the community. Suffering and challenge are dealt with through faith, hope, and prayer all as part of that Easter fiesta celebration. The Easter fiesta (Pascua de Resurrección) reminds them that there will be joy again for the family despite any temporary setback they may be going through. This is a message that not only resonates with these families, but also our own families during these times of sickness and duress that we are now all going through together.
This Easter for these people we serve was one in which they had a chance to experience a temporary bit of "normal" or as close as many of us can come to it in these days of the COVID-19 pandemic. Many children and adults experienced the joy of Easter because so many of you made a small decision to sacrifice what you had monetarily in order that they could have something on this day. It is through our larger community that extends beyond any one culture, race, or people that makes our nation a great one. We thank you again for your support and cannot state in any number of words of what it means for people who otherwise would have gone without on Easter to know its joy and hope because of your kindness. Gracias!
The WAMC staff and the volunteers are continuing to deliver food each week to as many families as possible. There is a great need right now for the emotional support these families and men feel when we deliver the groceries to them! It gives them a chance to know they are not alone. That our community as a whole is one willing to rise to the new challenges in order to overcome what the epidemic presents in danger so that together we will all succeed in meeting these challenges as one people. We appreciate your continued support of our efforts and thank you for all you have done to be the change you wish to see.
If you would like to make a donation to help support our continued mission to feed migrant farm workers and their families during this crisis you can donate to the WAMC safely online here.