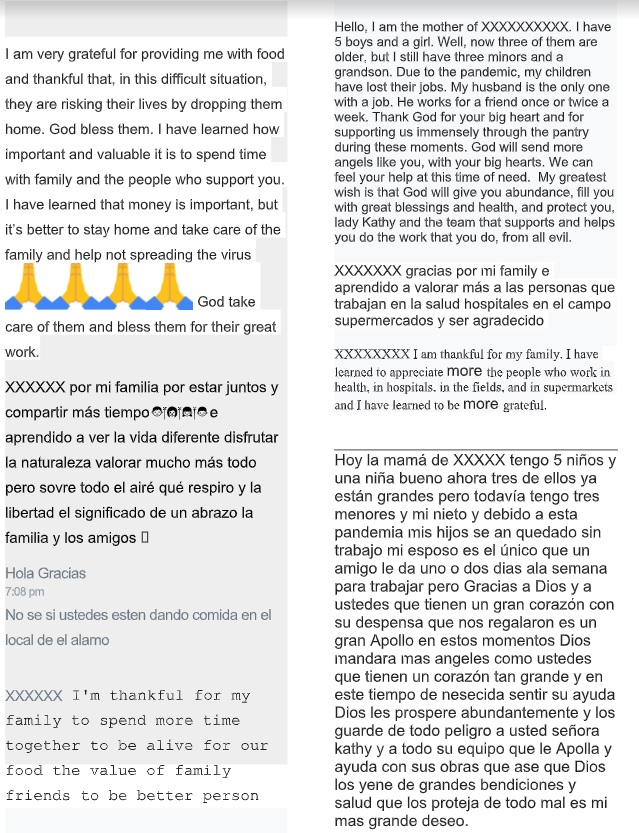 Dear Friends of the Warwick Area Migrant Committee,
The expression of gratitude seems like a natural human response. While it does not take much effort, it yields a tremendous gift to both the person expressing it and those receiving it. Living in these times has made us more aware of the gifts of family, friends and community– making us feel more grateful. At no time before have I been more grateful to those of you supporting the families we serve.
I have also witnessed the gratitude in the expressions of the families we (the WAMC) serve. I have been contacted by many of the supporters of our work asking about how the farm worker families are doing. When we go out each week to deliver food, we hear their stories and expressions of gratitude.
I thought that we could all learn something from them. So we have started a Gratitude Project that will be shared with you during the upcoming weeks. Families were asked to write about something that they feel grateful for as a result of this current environment we find ourselves in. These are unedited submissions done in both English and Spanish. The names of the families have been removed for their privacy.
Thank Your For Your Continued Support,
Katherine Brieger
WAMC Executive Director