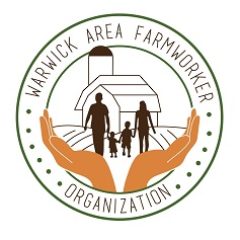 Dear Friends,
As always, I would like to begin this letter with an expression of my gratitude for your support of the farmworker families.  It has never been more important due to the recovery of our community following the COVID pandemic.   We are looking forward to a great summer-back in Pine Island Elementary School.   Having the children together is something that makes us all very happy.   We wanted to provide you with an update about some significant organizational changes that have occurred in 2020.   Updates on our other activities will be included as well.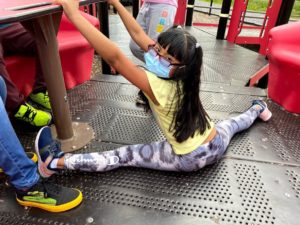 For over 62 years, the Warwick Area Migrant Committee has served the farmworker community.   We were founded by people like you, concerned about the health and well-being of farmworkers.   WAMC was established as a 501c3 Private Foundation which while tax-exempt, did not allow for us to apply for grants and other important activities.   In 2020, we secured the pro-bono services of a law firm in New York City.   Our new organization was recognized by the Attorney General's Office and the IRS in early 2021- the Warwick Area Farmworker Organization. This organization is a 501c3 Public Charity w
hich will allow us to apply for grants.  It has the same mission and some of the same Board members as WAMC.   The Warwick Area Migrant Committee will be merged into WAFO by the end of this year but will remain as an Advisory Committee-providing valuable guidance to the WAFO.  The Board members and Advisory members will be featured on the website and in the Annual Report.
The second major change for WAFO, will be in effect as of June 30th.   WAFO will become an Affiliate of Sun River Health (formerly Hudson River Healthcare).   The Alamo Community Center and the Alamo Health Center are both operated under Sun River Health as well as 43 other Health Centers throughout New York State.    The affiliation agreement is an important one as it allows WAFO to continue to operate as a unique organization but will ensure the sustainability for the future.   The two organizations have had a long history which I will describe briefly.   In 1963, WAMC and other organizations hired four VISTA volunteers to conduct a health needs survey of farmworkers in this area.   The survey results were made public and were the foundation for an application which was submitted to the Federal government to establish health services for farmworkers.  Since that time,  a full time,  full service Federally Qualified Health Center is operating-known as the ALAMO with Dental, Pediatric and Adult services.   Sun River Health serves the whole community, especially the underserved with health services.
In 2011, WAMC worked with Sun River Health to transfer WAMC properties (including the ALAMO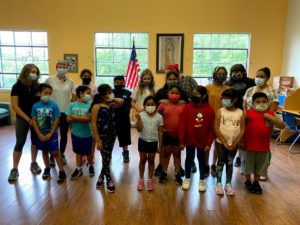 Community Center and the Alamo Community Health Center) to Sun River Health.  This allowed for the sustainability of the A
LAMO programs in much the same way that the affiliation with WAFO is currently.
This Affiliation with Sun River Health will allow for expanded services including a Community Health Worker program.  The recruiting and training of people from the community will provide much needed training and information on health concerns to the larger community.  These CHWs will help to promote access to direct health services as well as knowledge of how to live a healthier life.
Kathy Brieger will remain the Executive Director of the Alamo Community Center as well as the Warwick Area Farmworker Organization.
Now an update on the summer program:
As you might imagine, we have had to make many changes to accommodate safety in the time of COVID.   We are returning to the school this summer and will offer a stronger academic program in the morning, using Learning A-Z (a reading program).   The afternoons will be filled with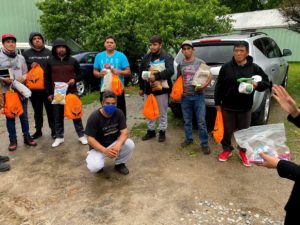 the usual art, dancing and cooking activities.   The children are so happy to be together.   Some of the programs we plan on offering include:
Dancing
Wickham Works-Finding Your Voice Art Project
Healthy Eating and Nutrition Program
Arts and Crafts
Running Club
Field Trips
Safety Back-packs
We have provided almost 250 back packs to individual farmworkers which contain many of the safety aids.  Take a look at the photos on our web page.
Fairy Book Launch
Earlier this month, we published our Dulce Esperanza Fairy book on Amazon.  Proceeds from this book will support the summer program.  We are hoping to have a large number of books purchased from around the country.  It is a children's book written in Spanish and English, with the illustrations featuring eight of our children.  The message in the book is that together we make the community stronger.  The children helped to craft the story by identifying a special power that they would have.  A Fairy launch party was held, and photos are on our website.
Bienestar
This eight- week program will end on June 18th.   Ten students participated in this wellness program.  They learned about healthy foods and will complete a walk around the Pine Island Park.  For many of the students, this was the first time they were able to be together.   They learned a lot about health and have confidence in many of the exercises taught to them by Emma Sinkoff and Emily Welsh.  The students were joined by supporters from the community including Katie Oresto (Warwick Police Officer); Olivia O'Conner (Graduate Student); Maya Henderson (Summer Intern with Dulce Esperanza); Elba Bizoni and Patty Boltin of Sun River Health.
On behalf of our volunteers, Board of Directors and staff of WAFO, I wish you a very good new year.  We are continuing with our other projects-assembling over 300 Safety Backpacks for farmworkers; our Fairy Book and other supports for the families.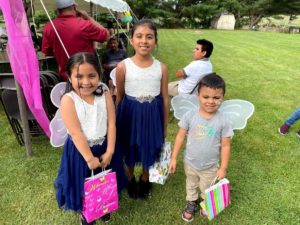 Our need for support continues as your donations allow us to operate the summer program and all of the other outreach we are engaged in.
We are posting photos of our activities on Facebook, Website and Instagram.  We are so very grateful to you for remembering the community of farmworkers served by WAFO.    We could not do this without your help!   
With gratitude!
Katherine Brieger, CCE, RD-Executive Director, WAFO
Written: June 17, 2021