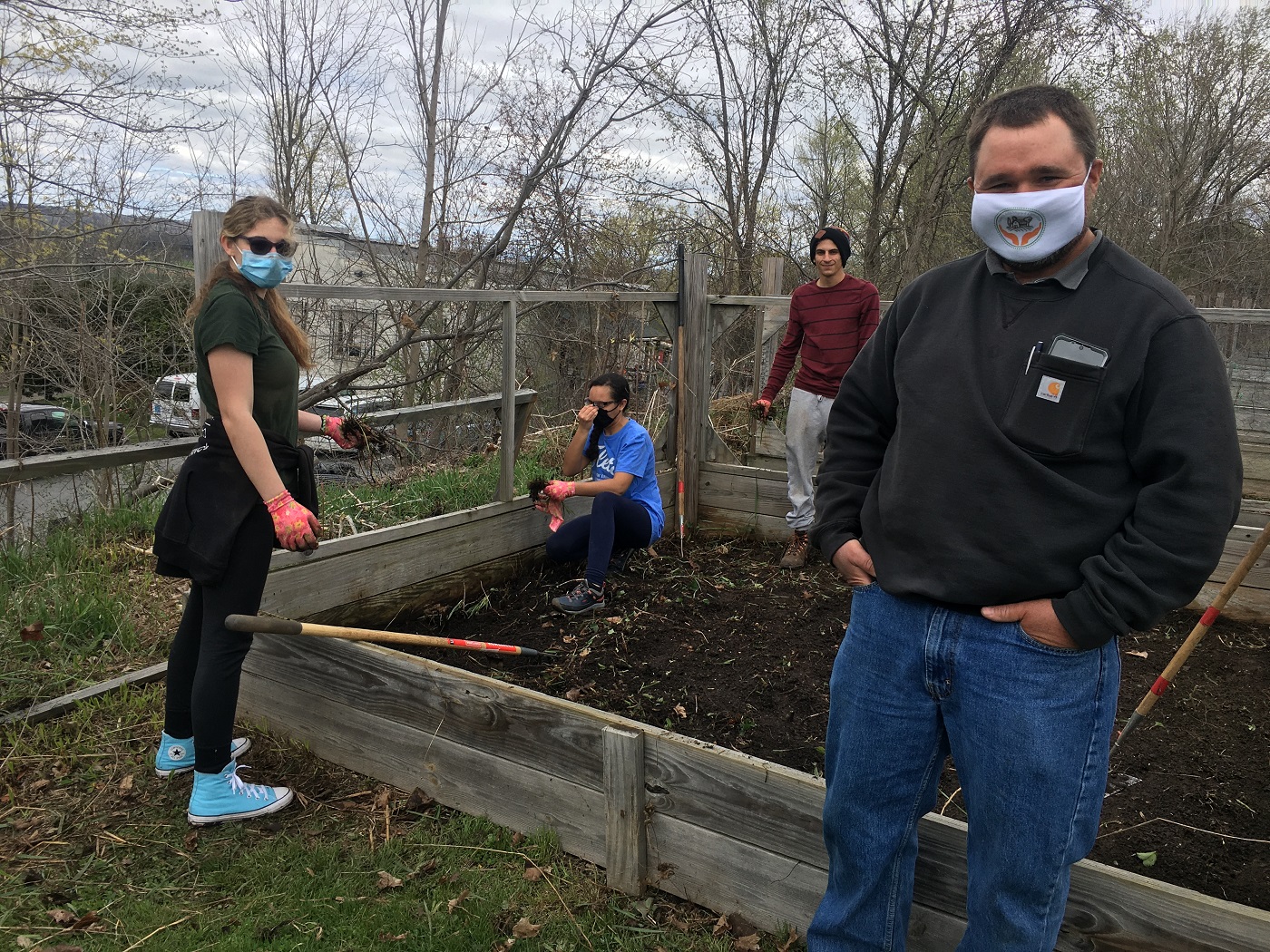 As previously posted on our website here, the Warwick Area Farmworkers Organization (WAFO) with the support of Sun River Healthcare held an event to distribute safety backpacks as part of the Warwick Area Migrant Committee Safety Backpack program on Sunday, April 18, 2021 at the at the Pine Island Elementary School in Pine Island, NY. This same building is used by our Dulce Esperanza Summer Program. This event also included a COVID-19 immunization clinic run by Sun River Healthcare where migrant farmworkers and their families could receive their COVID-19 vaccination.
During this same event, some of the volunteers who were present to help out at the clinic and backpack distribution also spent additional time clearing out the ten garden boxes in the WAMC Outdoor Learning Garden that is used by both the farmworkers and their children as part of the various programs hosted by the WAMC. This is the same garden that each summer the children in the Dulce Esperanza Summer Program learn about biology, agriculture, and gardening as part of their environmental science enrichment class. The volunteers really went above and beyond by helping our program get it ready early in the season for the adults and children in the programs. We are so grateful for this work and wanted to make sure they got recognition for it.
New York State Assemblyman Paul Ruszkiewicz was among the volunteers and is pictured below helping out. Assemblyman Ruszkiewicz has been very generous in his volunteer work with the WAMC and its new sub-committee the WAFO. We appreciate his continued support of our programs and his volunteer work with our programs.
Also pictured below is the safety bags being distributed to 90 farmworkers during the vaccine clinic run by Sun River Health.  This event was open to the Pine Island community as well as agricultural workers in the area. All were welcome to get their vaccines at no charge and it was a benefit for the community as a whole for the clinic to be held. We are grateful for Sun River Healthcare's continued support of our programs as well and thank them for the expertise in public healthcare that made this clinic event possible for all in the Pine Island NY community.
Programs like this are made possible through private donations. If you would like to support WAMC/WAFO programs like this you can do so here.