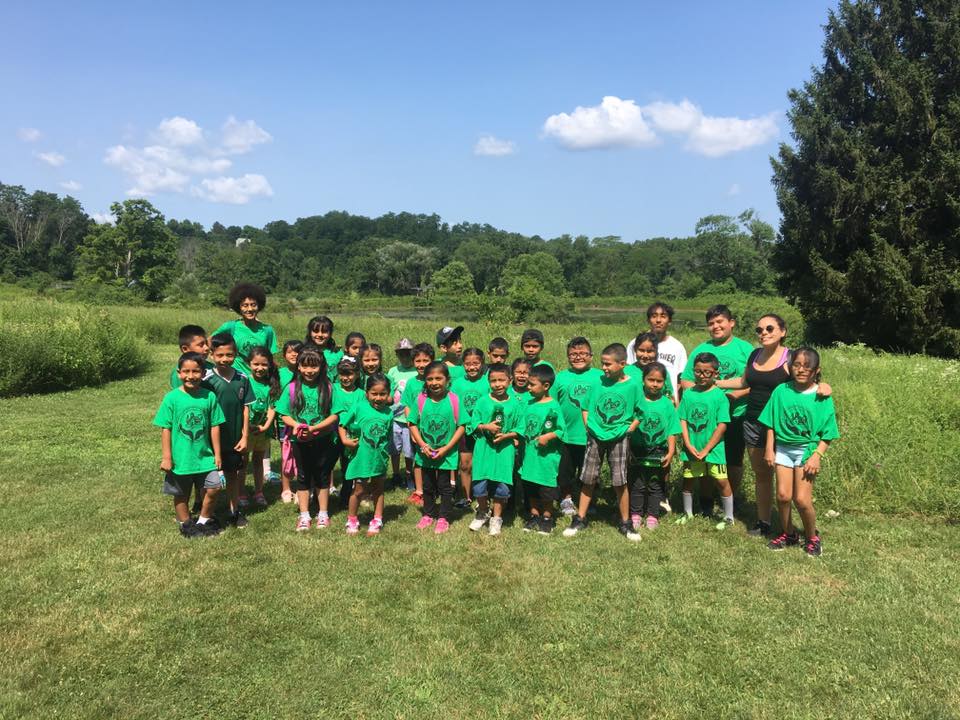 Cornwall, NY – After chance encounters at community events last year, it seemed kismet that the Hudson Highlands Nature Museum (HHNM) would work with the Warwick Area Migrant Committee (WAMC). Now, thanks to a generous grant from the Swantz Family Foundation, it has come to pass. The two institutions, both celebrating their 60th anniversaries in 2019, have arranged for WAMC's Dulce Esperanza (Sweet Hope) Summer Camp to attend six Nature Museum science and ecology programs this summer.
Last year, driven by the passion of HHNM's staff to do so; the Nature Museum provided Dulce Esperanza with three free programs for their summer campers. This year, as part of an organization wide effort to make nature education and play more accessible to children in underserved communities, HHNM sought – and received – funding to support expanded programming for Dulce Esperanza. Tom Bregman, Executive Director of the Hudson Highlands Nature Museum states;
"Thanks to the Swantz Family Foundation, this summer over one-hundred Dulce Esperanza children will benefit from more time in nature, deepening connections to place, building meaningful relationships, enriching their lives and fostering the resiliency required to meet the challenges of our modern world."
The program is designed to serve three separate age groups, totaling approximately 120 children ages 6-16. Each group will make one visit to our Outdoor Discovery Center and one visit to our Wildlife Education Center where they'll learn in fun and hands on ways about our region's flora and fauna, meet live animals, go on guided hikes, enjoy nature play in Grasshopper Grove and more! The campers and counselors will be bussed over thanks to generous support from West Point Tours for providing discounted transportation costs.
Executive Director Katherine Brieger of the Warwick Area Migrant Committee and Dulce Esperanza Summer Camp was thrilled when the grant award was announced;
"The campers loved visiting the Nature Museum last year, it was a highlight of their summer. I'm thrilled that Swantz Family Foundation support will allow over one-hundred children to participate in the Nature Museum's ecology programs and experience the fun and adventure of Grasshopper Grove too. They can't wait!"
Every summer, as most children and families in the Hudson Valley look forward to vacations and time off from school and work, area farmworkers work even longer hours. This poses a great challenge for childcare. Until 2016, the Mustard Seed Migrant Ministry provided this important care to eighty children. Farmworker families came to rely on this program, secure in the knowledge that their children were in a safe and supervised environment. However, when the nuns who ran the program retired it left a gaping hole in the services supporting farmworker families. Thankfully the hole was filled by a coalition of the WAMC, Alamo Community Center, Hudson River HealthCare, parents and dedicated volunteers. The program, since known as Dulce Esperanza is based at the Pine Island School in Warwick where similar services have been offered since the 1960's. The Dulce Esperanza program provides full day summer camp for over 120 children every summer. It offers enrichment including art, writing workshops, reading, music, horticulture, sports, computers, pottery, yoga, mindfulness and more. According to Leonard DeBuck, President, Pine Island Chamber of Commerce;
"Many [Pine Island] farmers employ seasonal farmworkers, and having the Dulce Esperanza available for the children of farmworkers allows both an enriching experience for the children themselves, and peace of mind for their parents. The program is a wonderful thread in our community's fabric."
With a limited budget, and with the families of the summer campers lacking significant financial resources, Dulce Epseranza looks to provide educational and experiential services without asking that the summer camp families pay more than the summer camp tuition. Jennifer Swantz Stokum, Chair of the Swantz Family Foundation stated,
"The Swantz Family Foundation is thrilled to be supporting Dulce Esperanza visits to the Hudson Highlands Nature Museum. Research has shown that time in nature increases our physical and emotional health, and creates healthy communities. Providing opportunities for all children to have equitable access to nature play is one of our foremost goals."
HHNM staff is committed to sharing their knowledge, passion and respect for the environment with children who may not otherwise have the opportunity to experience nature in this way. Thanks to WAMC, West Point Tours and the Swantz Family Foundation they are able to do that for the Dulce Esperanza campers this summer.
For more information about the Hudson Highlands Nature Museum or the Warwick Area Migrant Community, visit hhnm.org or wafarmworkers.org.