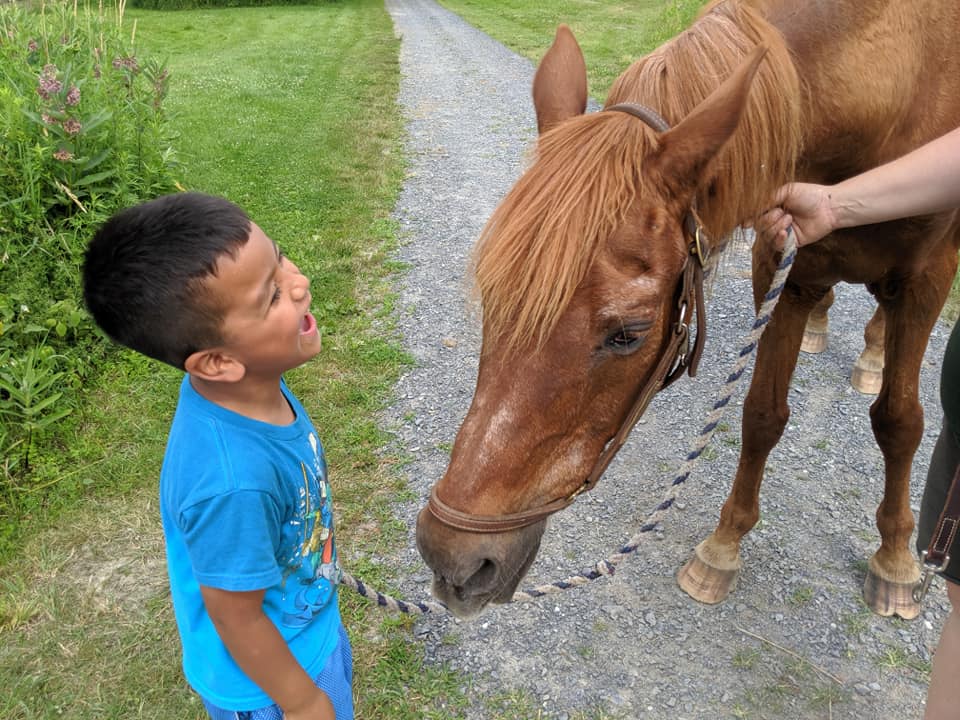 The first week of the Warwick Area Migrant Committee Dulce Esperanza Summer Enrichment Program began on Tuesday, July 2, 2019. Many parents and volunteers helped to finalize the former Pine Island Elementary School building in Pine Island, NY that serves as the Program's school building ahead of that first day. In total, over eighty five children are attending the program this year!
Our friends over at Geek Hive generously donated shirts for parents and children of the program to wear for the first day of class. We appreciate the donation and thank Geek Hive for sending them over– everyone really likes the shirts and the kids looked great in them!
The second day of class (Wednesday, July 3, 2019) was a field trip day for the students. The WAMC students visited the Amity Therapeutic Horse Farm in Amity, NY. The Farm runs the Amity Foundation for Healing With Horses. This non-profit organization uses the therapeutic power of horses to help those who have experienced the psychological, emotional, and relational effects of trauma. The Farm is a truly amazing place that does incredible things to help others. The children were in awe of the beautiful horses. They really enjoyed their time with these magnificent animals, as well as, the wonderful compassionate staff who runs the program. That same staff also cares for the horses and operates the Farm. It was a wonderful experience for the children. Thank you for having us on the Farm!
The first week of Dulce Esperanza ended with new friends and sewing projects on Friday, July 5, 2019. A great series of rounds of the game "Simon Says" was a big hit with the students too!
The first week of the Summer Enrichment Program was a busy one for both the program staff, as well as, the children. Weeks two and three have also been full of fun, learning, and continued enrichment of the children. It is amazing how fast these kids learn new things and grow right before our eyes. They are truly excited to be in this program and our staff is excited to have them there.
If you would like to support this program you can make a safe, secure, and easy to do donation right here.
For those of you who already did donate this year, we want to thank you all for your kindness and generosity. We appreciate your support and hope you enjoy seeing what that support has already accomplished these first few weeks!