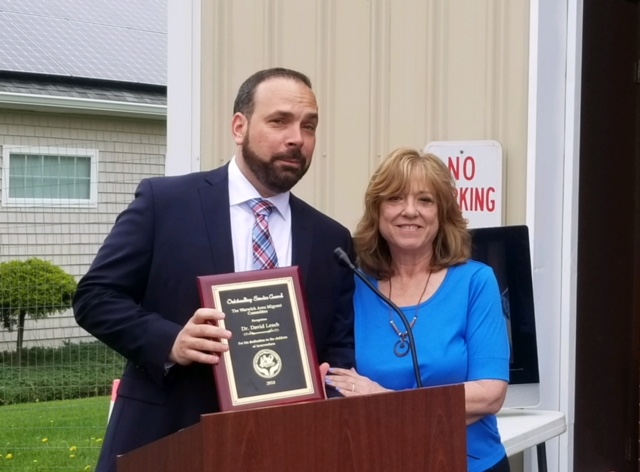 Warwick Central Valley School Superintendent, Dr. David Leach, received the 2018 Outstanding Service
Award from the Warwick Area Migrant Committee in Pine Island, NY on May 6, 2018 . This presentation was held
during a fundraiser in Pine Island, raising $1,000. As Superintendent of Warwick Central School System,
he has made extensive efforts to support the Summer Enrichment program held in the Pine Island
School. His sustained efforts are recognized by the farmworker families who are very grateful for this
support. The parents have named the program "Dulce Esperanza" which is translated to Sweet Hope.
Their hope is that one day their children can be doctors, nurses or teachers. The Warwick Area Migrant
Committee members selected Dr. Leach for this award because without his support, there would not
have been a program. He helped to organize a meeting for the Superintendents of the other school
districts to gain support for this program.
The Pine Island School comes alive in July as one hundred children enter the classrooms. Historically,
the Pine Island School was used to serve farmworker children-dating as far back as 1964. Fundraising
efforts continue throughout this spring and early summer for the program. Children from five school
districts attend the program, including Warwick, Minisink, Florida, Goshen and Chester. While their
parents work in the field, the summer enrichment program offers them a safe, supportive program for
the children.
Funding for Dulce Esperanza is dependent on donations and contributions from the farmworker
families. A limited number of paid staff are supported by a large crew of volunteers ranging in age from
8-80. Volunteers provide much needed help for this program including arts, reading programs, writing
workshops and computer science.
Support is needed for Dulce Esperanza-The next fundraiser, a Mexican Dinner, is scheduled for May 19, 2018
at the Warwick Methodist Church in Warwick, NY. Volunteers may contact us for more information. Tickets
for the May 19th Dinner are available through by contacting us here or in the Alamo Community Center. Tax-
deductible donations can be made through our website here.